Melissa Brooks, LMT, LE
Licensed Massage Therapist, Licensed Esthetician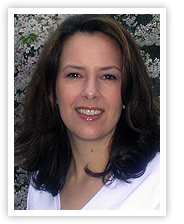 For over 10 years, Melissa Brooks has been providing massage and skin care services to clients from all walks of life. She is an expert in Swedish, Deep Tissue, and Thai Yoga Massage as well as Reiki and Reflexology. In 2002, Melissa visited Thailand to train in the art of Thai Yoga Massage and it has since become a centerpiece to her wellness offerings. She also teaches Infant Massage classes.
Melissa maintains a number of professional certifications:
Licensed Massage Therapist (LMT)
Member of the Association of Bodywork and Massage Professionals (ABMP)
Certified by the National Certification Board for Therapeutic Massage and Bodywork (NCBTMB)
Certified Yoga Instructor
Licensed Esthetician (LE)
Certified Educator of Infant Massage (CEIM)
Learn more about Massage Therapy.
Please call (703) 865-5690 to get more information or to schedule an appointment with Melissa Brooks.
Give the gift of health!
Stop in, Call, or Email us to purchase a gift certificate for your loved ones or colleagues.
Office Hours
Mon: 9 am – 5:30 pm
Tues: 11 am – 5:30 pm
Wed: 12 pm – 8 pm
Thur: 11 am – 5:30 pm
Fri: 9 am – 5:30 pm
Sat: 9 am – 12 pm
Sun: By Appointment Only


2015 Top Ranked
Chiropractor in Fairfax
Verified by
Opencare.com