The Science of Being Well Docuseries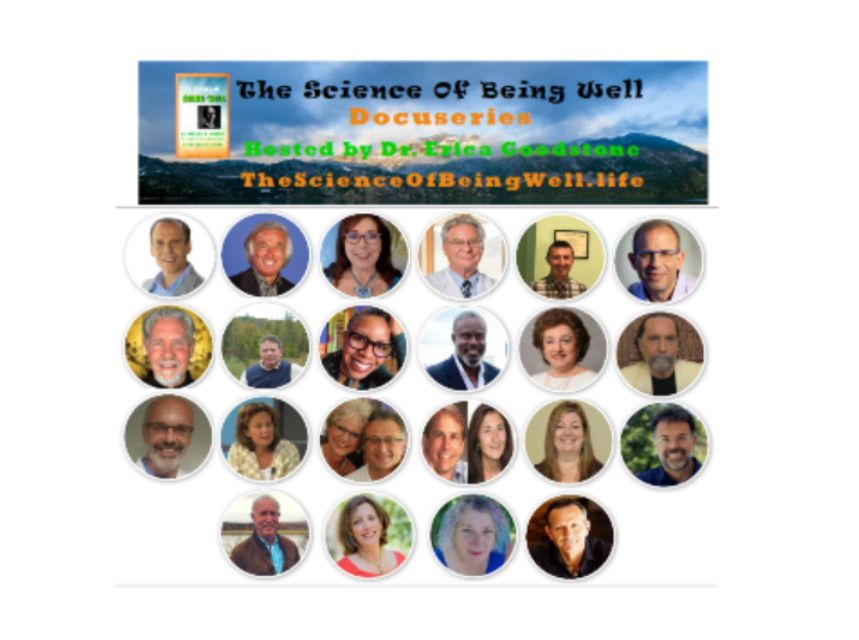 Sign up for The Science of Being Well Docuseries Here!
The series runs Monday October 19-October 29. There will be 22 speakers two available each day and at the end there will be an additional 2 free days to watch any interviews you missed. An upgrade will be available to have future access to the series. Read on for more information!
There is a Science, an art and an unknown factor in health and healing and being well. Inspired by a book, The Science of Being Well written in 1910 by Wallace D. Wattles, a powerful docuseries by that name was created by the host, Dr. Erica Goodstone. Her goal is to validate the theories set forth over 110 years ago with 22 current leading health experts approaching health from many different specializations.
This event highlights speakers with credentials in Integrative Medicine, Oriental Medicine, Naturopathic Medicine, Chiropractic, Psychiatry, Psychology, Psychotherapy, Hypnosis, Plant Medicine, Functional Medicine, Neurology, Nutrition, Energy Medicine, Sound Therapy, Movement Therapy, Somatic Body Therapy, Body Psychotherapy, and so much more.
In the middle of this global pandemic, so many of us are living with daily fear about our health, especially if we are older or have one or more underlying health conditions. The media does not provide information about how we can maintain our health, prevent disease, or at least have a strong enough immune system to enable us to heal if we do get sick.
As participants in this event, we are honored and delighted to be able to share my unique perspective on what you need to do, and what you can begin to do right now, to be healthy. These speakers have done extensive research and have helped 1000's of patients and clients to heal and live a healthy, disease-free life. And YOU can heal too!
What are you waiting for?
Remember, if you get just ONE "Aha" that leads you in a new direction toward healing, isn't it worth your time to watch the videos and listen to what these healers have to say? Some of it may sound familiar, but it will still be mind-expanding and you may hear just what you need to take action for your own health now. This is the time for you to become your own health advocate and feel supported, understood, encouraged and hopeful about the health that is possible for you, no matter what your current health is like.
Please join us on this powerful healing event.
Call us today!
703-865-5690
Give the gift of health!
Call us or come on in to purchase a gift certificate!
Office Hours
Neck Back & Beyond Fairfax
The hours below are for Dr. Tomson. Other practitioner's hours vary. Please call for an appointment.
Mon: 10 am – 5 pm
Tues: 10 am – 3 pm
Wed: 2 pm – 8 pm
Thurs: 1 pm – 5 pm
Fri: 10 am – 5 pm
Sat: 9 am – 12 pm
Sun: Closed

2015 Top Ranked
Chiropractor in Fairfax
Verified by
Opencare.com