Thermography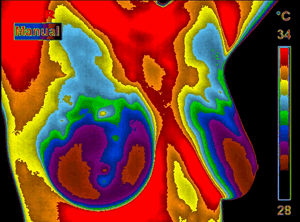 Call or email us to reserve a spot for yourself, family and friends!
Spring 2022 Clinic Dates: Saturday April 23rd to Monday April 25th
Phone: 703-865-5690
Email: neckbackandbeyond@gmail.com
What is Thermography?
It's an effective and essential screening tool with 90% sensitivity and specificity geared toward early detection of breast changes & abnormalities.
It offers individualized assessment with an adjunctive role in breast cancer detection and prevention.
It's completely safe: no radiation,no breast compression, and can be performed on women 21 years and older. FDA approved since 1982!
Breast thermography is digital infrared imaging of the breasts. A photo is taken which shows a "heat map" of the breasts. Cancerous tumors may present as "hot spots" in these photos (known as angiogenesis). Thermography enables us to detect these "hot spots" thus giving early warning that a breast cancer may be forming. Research over the past 20 years has shown that EARLY DETECTION is the key to surviving breast cancer. However, PREVENTION is ultimately the goal and THAT is what will save lives and end our battle with this disease. Thermography gives vital information that allows a woman the opportunity to reduce risk factors, make life-style changes, and monitor her breast health more closely. With the support of her health care practitioner, each client becomes more pro-active in her own health maintenance.
Thermography may also be helpful in screening for other imbalances in the body. These include thyroid, circulatory issues, chronic pain syndromes, hormonal imbalances, diabetes, and digestive issues to name a few. Consult with your health care provider to see if this testing would be appropriate for you.
About the Practitioner:
Dr. Aileen DeVere
My background is as a chiropractor (graduated from Logan College of Chiropractic in 1994) and as an acupuncturist licensed in the state of VA since 1997.
I offered a holistic practice consisting mostly of Acupuncture and nutritional counseling. I have treated patients with allergies very successfully for over 20 years.
In 1999 I learned about Thermography and implemented it in my practice. I enjoy educating patients on the benefits of thermography and helping patients implement nutritional guidance to help improve breast health and their overall wellness. I have worked with patients with aggressive inflammatory breast cancer from diagnosis to treatment. I have worked with patient's who have had breast tumors and once removed see the difference on thermogram. I have worked with patient who were missed diagnosed as having a cyst when thermogram demonstrated otherwise. It has been a journey for me to work with such a diverse group of women and help with their individual needs. I truly enjoy working with patients on their unique journey.
Please call (703) 865-5690 to get more information or to schedule a thermogram.
More Information on Thermography: