Holistic care means treating you.
Not just your symptoms.
Neck Back & Beyond is an integrated healing center located in Fairfax, VA, devoted to treating all people — from infants to senior citizens — in a warm, compassionate and family-friendly environment. We offer holistic medicine, chiropractic therapy, naturopathic and nutritional consultations, massage therapy, reflexology and more. Learn more about the services and therapies we offer.
Our approach is simple: We strive to find and treat the source of your problem, rather than just turn off your symptoms. Our holistic practitioners utilize non-invasive methods, customized diet plans and supplements to trigger the body's natural healing ability — without harmful drugs.
So come on in, relax, and enjoy a cup of herbal tea... we look forward to seeing you!
Give the gift of health this holiday season!
The perfect gift for that hard to buy for person, for your Family, Friends, how about just for YOU?
A Neck Back and Beyond Gift Certificate!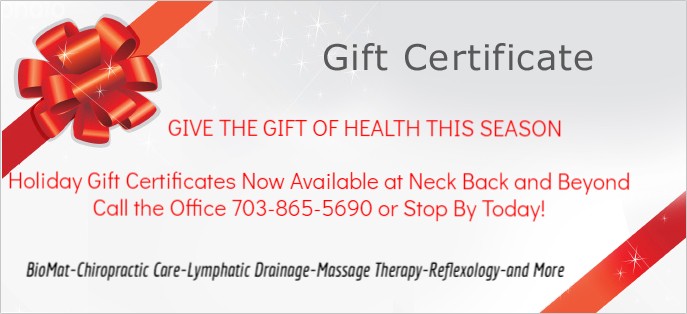 Pick the perfect Essential Oil or Essential Oil product
nothing like a Massage as a gift
a personal session with one of our Practitioners
So many Options for a Healthy 2019!
Call or Stop by the Office for the perfect gift that fits everyone! GET YOUR GIFT CERTIFICATE TODAY!
Dr. Tomson's Tip
Fortify Your Immune System
Vitamin C and Vitamin D3 are the go to supplements to keep our immune system on track. 1000 to 2000 milligrams a day of Vitamins C and 5000 to 10,000 units of D3 is adequate. We view this as the minimum dose. Additionally we recommend the essential oil Thieves for prevention and intervention in a diffuser and consumed as a tea.